record  –  mix  –  master
Bamm-Bamm Music
Recording
Our Studio Facilities
Our 3200+ sq. ft. facilities are based at Forest Hill in South East London. We have multiple studios setup in our facility to help every music production from inception to finished product. Should you need something even bigger, we have an event space located more central to London availble for hire. Take a 360 video tour below.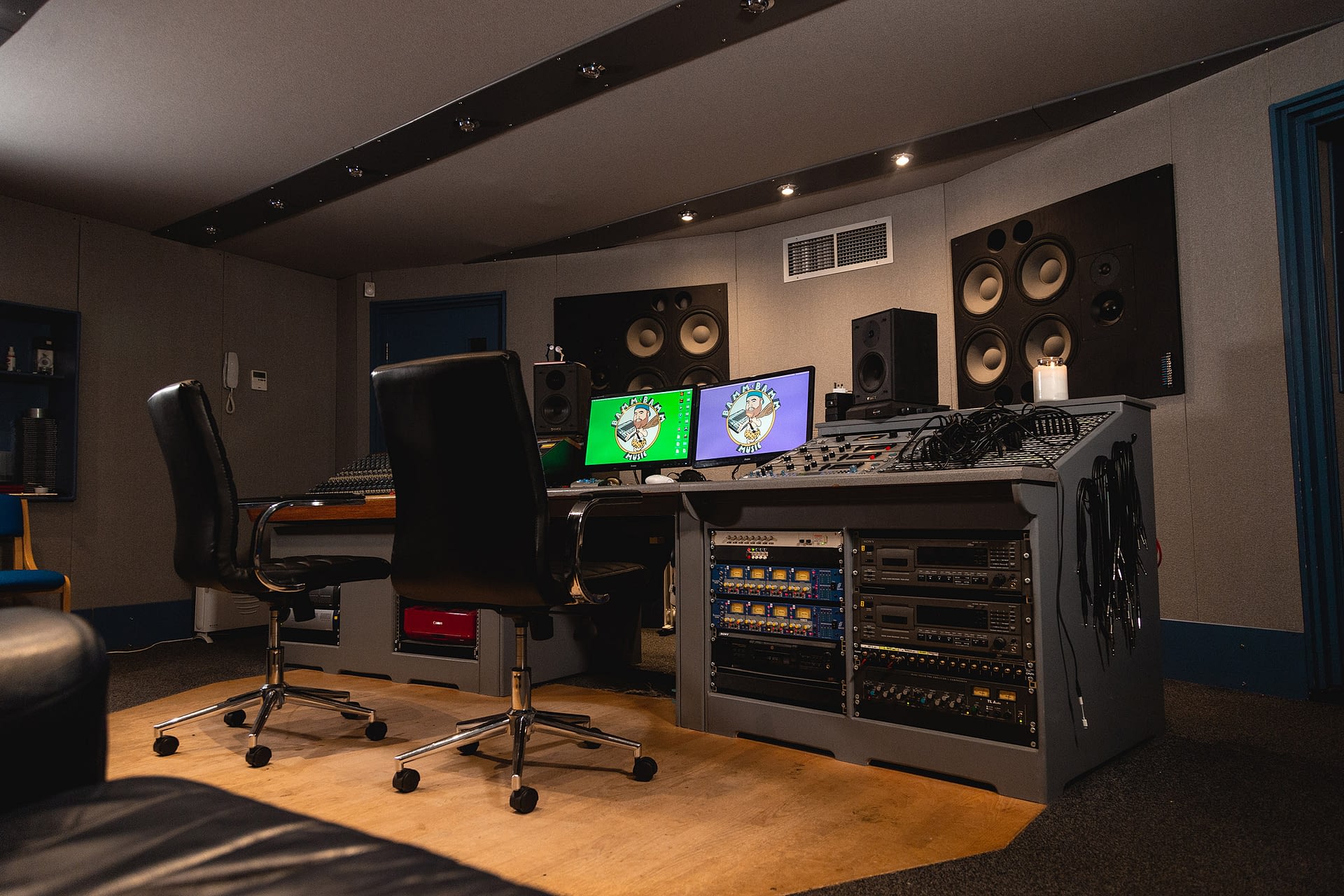 Studio A
Studio A is our Largest Studio and has been designed with large tracking sessions in mind. Centred around our 1976 Neve 5305 Console and 40 in 40 out Pro Tools HDX system there is plenty of room to record the most complex arrangements in our spacious sunlit live room which can accommodate up to 16 orchestral musicians or an 8 piece band.
Studio B
Studio B is our production studio and secret layer of Bamm-Bamm himself where he does all of his post-production, mixing and mastering. This smaller room is a great budget saver for any project and can record up to four vocalist together at once.
Kitchen Area
The studio has a fully stocked kitchen with Microwave, Convection Oven, Slow Cooker, Fridge, Rice Cooker, Hot Plate.
Floor Plan
Here you can see the floor plan of our entire facility located in Forest Hill, South East London, UK.
Lounge Space
We have a dining table that can seat six and adjoining lounge that can seat six as well.
Neve 5305 24 CH Console
Quested 4 x 12 Tri Amped Monitors
Yamaha NS10 Monitors
Tanoy PBM 6.5 Monitors
Pro Tools HDX 40io
Pro Tools HD IO x2
Digidesign 96io
Logic X
Focusrite ISA 428 Preamp x2
Urei 1176LN Compressor x3
Urei 1178 Compressor x2
Universal Audio LA2A Compressor
Universal Audio 1176LN Compressor x2
dbx 160A Compressor x2
AML exP-1A EQ x2
Tripletone 60s EQ x2
Midas Venice 320 24 CH Console

KRK V8S4 Monitors
Yamaha NS-10 Monitors
Pro Tools HD Native 64io
Antelope Audio Orion 32HD
iZ ADA with Nyquist Cards
Logic X, Ableton 9
Motu 828MKII
Universal Audio 4-710d Preamp
Millenia HV-3 Preamp
Rupert Neve Designs 511 Preamp x2
Warm Audio WA12 Preamp x2
Tegeler Audio EQP-1
Empress efx ECM 519 x2 Compressor
Cloud CX335 Split Band Compressor
Drawmer DL221 Compressor
Focusrite COM Pounder
Microphones
Our Microphone Collection
AKG
AKG C300 x 2

AKG C411 III L

AKG C414B ULS x 2

AKG C414B XLII x 4 (stereo pair)

AKG D12

AKG D12VR

AKG D112 x 3

AKG D224E
Sennheiser
Sennheiser MD 441-U

Sennheiser MD 421 x 8

Sennheiser MKE 2
Other
AEA R84 (available upon request)

Beyer Dynamic M201 x 3

Beyer Dynamic M69

Blue Hummingbird x 4
Blue Bluebird SL x 2
Calrec CB20C x 3

Calrec CC01 Capsules x 2
Calrec CC51 Capsules x 2
Calrec CC50 Capsule x 1

Coles 4038 x 4
Crown PZM x 2
EV RE20
EV RE660
EV PL33
GAP R1 x 2
Groove Tube GT1 x 2

Hamma Lav Mic

MXL 990 x 2

Peluso 22 251

Realistic pzm x 2

Rode NT2A

Rode NT55 x 3

Rode NT5 x 6

Rode Wireless Go W/Lav
Roswell Audio mini K47

Royer 121 x 2

Samson C02 x 2
 

sE2200a

sE Z3300A x 2

SM LowFreq

Sonarworks XRef

Sony ECM-MS907

Sony F-V120

Studio Projects C4 x 2

T.bone RB-500 x 5 modified

T.bone RM-700 x 2

Triton Audio FetHead x 2


TZ Audio Products Stellar x 2 (stereo pair)

UHER Dynamic Mic

Yamaha MC7

Yamaha NS10 Woofer
Neumann
Neumann KM84 x 4

Neumann KM184 x 4 (stereo pair)

Neumann KMS105 x 2

Neumann u87 (70's)

Neumann u87Ai x 2 (stereo pair)

Neumann TLM193 x 2 (stereo pair)
Shure
Shure Beta 58 x 2

Shure Beta 87

Shure Beta 91 x 2

Shure C606

Shure PG58

Shure SM7B

Shure SM57 x 6

Shure SM58 x 4

Shure SM81
DI
BEL Active DI

Groove Tube Valve Di x 2

Little Labs Redeye 3D

ProCo DB1

Radial J48 x 2
Radial Pro Di
Radial Pro D2 x 2
Radial Pro 48 x 2
Samson Direct Plus x 2
Gibson Les Paul special (P90s)

Epiphone Les Paul

Epiphone 335 Dot

Squire Strat

Squire Tele

Squire P-Bass

Larrivee L-03E Acoustic 6 string

Acoustic 12 string

Electric 12 string

Antoria Jazzstar (Gibson L5 copy)

Spanish nylon string

Steel body resonator
Marshall JMP 50 watt (1972)

Marshall JCM 800

Peavey 6505+ head

Selmer T'n"b 50 mk1 (1964)

Fender  Bassman blackface and 2×12 cab 

piggyback (1966)

Fender Supersonic 60

Vox AC30 with treble boost mod (1963)

Vox AC30 HWH (2008)

Ampeg B-12XT Portaflex (1966 )

Ampeg B15-NL Portaflex ( 1965 )

Gallien Kreuger 500

Marshall 1964 300 watt 4×12 x 2

Hughes and Kettner 2×15 bass cab

Grossman IsoCab with Creamback 75
Weber 5ft Grand Piano (Studio A Only)
Arturia MiniBrute 2 Mono Synth

Deepmind 12 Polyphone Analog Synth

Model D Mono Synth
Yamaha DX

Roland JV-1080 with Controller

Fatar SL-990 88 Hammer Key (Studio B Only)

Nord

 Stage 3 (Big Room C Only)

 
Spitfire BBC Symphonic Orchestra Library

Native Komplete 11 Ultimate

East West Choirs, Hollywood Strings, Orchestral

Omnisphere 2

Keyscape

Sample

 Tank
Arturia Analog Lab 3
Gretsch Maple 14×8

Pearl Sensitone Bronze 14×5.5

Pearl Sensitone Elite Aluminium 14×6.5

Tama PAL255 Aluminium 14×5.5

Worldmax Brass Shell 14.6.5

Remo Metal Wood Hybrid Snare

Brass Firecracker Snare 12×3
PDP CX Maple Kit 10, 12, 14, 16, 22 

70's Premier Silver Star 13, 16, 24

Pearl Export Maple Kit 12, 13, 16, 22
Istanbul Traditional Light 15″ HiHats

Istanbul Traditional Thin 17″ Crash

Istanbul Traditional Dark 19″ Crash

Istanbul Turk Ride 21″
Available on Request
Camco 12, 16, 24
DW Collectors Maple 8, 10, 12, 13, 14, 16, 18, 22, 24
Gretsch 1974 Shell Set 8, 10, 12, 13, 14, 15, 16, 24
Hayman 12, 13, 14, 16, 18, 24
Ludwig 60's Superclassic 13, 16, 22
Olympic Mahogany Kit 12, 16, 20
Taye Studio Maple 10, 12, 14, 16, 20, 22, 24
Trixton 13, 16, 20
Yamaha Recording Custom 10, 12, 13, 14, 15, 22
Istanbul Turk 14″ HiHats
Istanbul Traditional Paper Thin Crash 15″
Istanbul Traditional Crash Ride 18″
Istanbul Traditional Ride 21″ 
collaborating with
Bamm-Bamm Music
We have a pool of talent we keep on file and are always working with. If you are a musician of any type please send use some samples of what you are up to or what you would like to do so we can consider working with you.
174A Perry Vale, SE23 2LR